TOKYO STUDIO INC. (Ina city, Nagano Japan) has expanded the coverage area of our smartphone app 'World Transit Maps' (Android / iOS) and has started the distribution service of the railway maps for "France".

Everything from Paris Metro to TGV and suburban railways
The railway maps on our app "World Transit Maps" is characterized by the fact that all lines are represented on the same map, not only in urban subways and commuter trains, but also in high-speed railroads and local trains heading to the suburbs.
In France, various transport modes exist, such as the Paris Metro, RER in Ile-de-France, high-speed railways such as TGV, TER local trains, and trams in major cities around the country.
Our app "World Transit Maps" that covers all of them and allows you to search for transit routes is very useful for creating travel plans and navigating on-site in France.
Global railway maps now available with free plan
If you even use the free plan "Rail Map Basic", you can now go back and forth freely between countries and regions by watching video ads. If you have seen railway maps of only one country / region before, why don't you try maps and transit route search on other countries / regions?
*Please update the app to the latest version (6.0.0 or higher).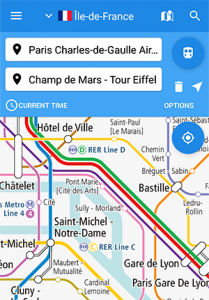 Covering area of the railway maps
The area will continue to expand.
| | |
| --- | --- |
| Asia | Japan, South Korea, Taiwan, Hong Kong, Thailand, Malaysia, Singapore |
| Europe | United Kingdom, France (New!) |
What's our app 'World Transit Maps'?
Our smartphone app providing originally designed railway maps, that cover all stations of railways and subways in the countries / regions around the world. People can immediately know the public transportation route to their destination with the transit route search that can be used with intuitive operations.
'World Transit Maps' supports 12 languages such as English, French, Chinese, Thai and so on, so it is used by worldwide people including travelers. Since it was released in 2015, it has been well received with over 2.8 million downloads and an average of over 4 reviews.